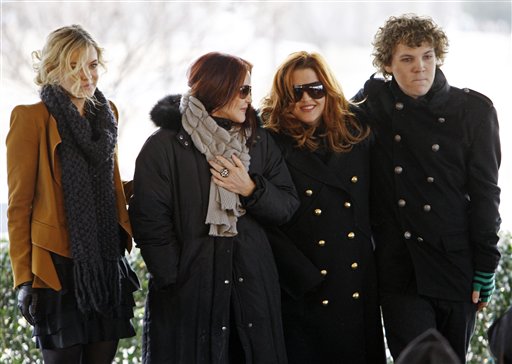 Elvis Presley would have celebrated his 75th birthday on January 8, 2010, and Graceland is holding its annual birthday celebration to commemorate the occasion.
Graceland, the former-home-turned-museum of the "King of Rock 'n' Roll," has kicked off this year's celebration with a weekend of Elvis-themed events in Memphis, Tenn.
A ceremony was held on Friday morning with Elvis' daughter Lisa Marie Presley, and former wife, Priscilla Presley ( with Lisa Marie's children, Riley Keough, 21, and Benjamin Keough, 18), where a cake cutting and proclamation of Elvis Presley Day by Memphis and Shelby County officials was announced, according to the Associated Press and the Graceland Web site. Fans, who braved a cold morning in Memphis, were then treated to cake and entertainment.
Other activities scheduled for the weekend included autograph signings, including Elvis' friend, George Klein, who authored the book Elvis: My Best Man, as well as Frank Hyland, who wrote Elvis: A Tribute to the King of Rock 'n' Roll. The 2010 Grizzlies Elvis Birthday Night was scheduled Friday night for fans to attend a Memphis Grizzlies game in an arena filled with Elvis-themed music and movie clips.
A Rock-a-Hula Girls Charity Benefit and Elvis Dance Party were also expected.